4 Ways to Use Pinterest to Plan Your Wedding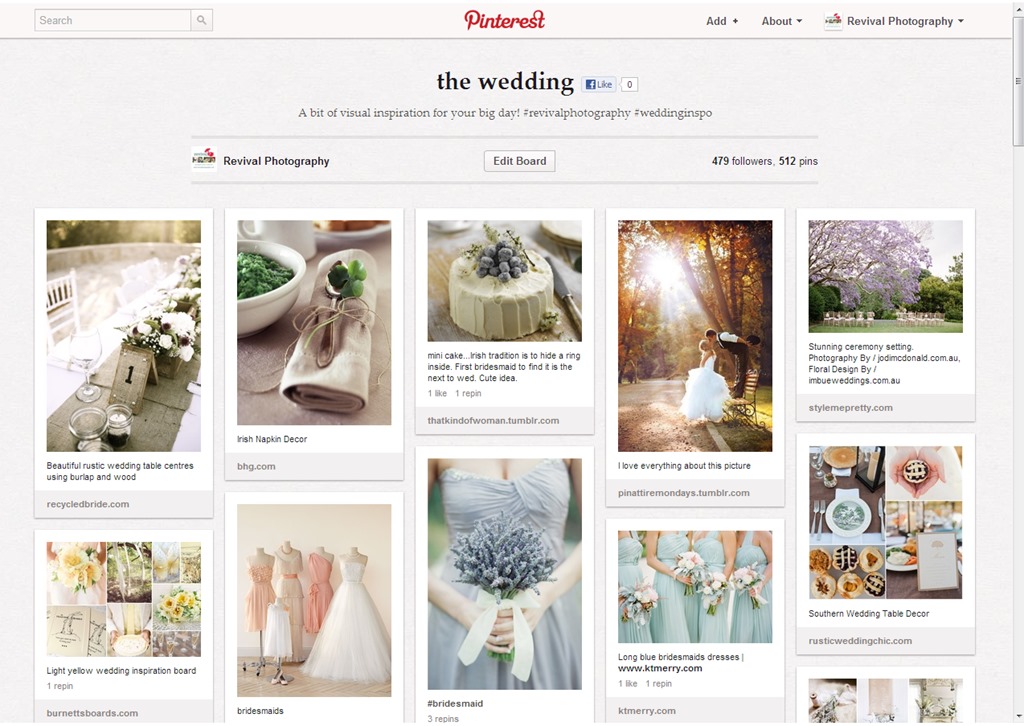 1. Browse a database of images to figure out what you love. Browse through tons of wedding tips, industry favorites, color schemes, trends, and real wedding imagery to figure out what you love. Start by pinning anything and everything and then narrow down your favorites later.
2. Use different boards to gather ideas and inspiration. Categorize different aspects of your wedding into different boards so that you can easily find a pin later on. Maybe you follow a ton of different wedding blogs… use the "Pin It" button that you can add to your browser to gather random things you love, then come back to your board later and see everything side by side to figure out the things you love the most. Follow pinners from the wedding industry to see what they love to get ideas and pin them on your own boards.
Some ideas for Boards:
Wedding Themes

Wedding Colors

Venue Ideas

Photography

Wedding Dresses

Bridesmaid/Groomsmen Attire

Hair

Make-up

Cakes

Floral

Accessories

DIY Ideas
3. Collaboration. Invite members of your wedding party, your coordinator, your photographer *hint hint* or other vendors to your boards so they can comment on your pins and tell you what they think. This is a great way to find out what your bridesmaids think of different styles of dresses or shoes. Use the @ symbol to tag them in the comments. Pinterest is such a great way to brainstorm and collaborate. You can even set your boards to "Private" if you don't want anyone to see what you're pinning.
4. Take your pins with you. Add the Pinterest app to your phone or ipad so you can pull up your ideas and favorites when you're on the go! You can even take a photo of something you love while you're out and about and pin it to one of your boards from your phone!
Be sure to follow us, we'd love to follow you back!
xoxo
Jason + Heather